'Tis the season to sing Christmas songs, eat too many mince pies and, above all, share precious moments with loved ones.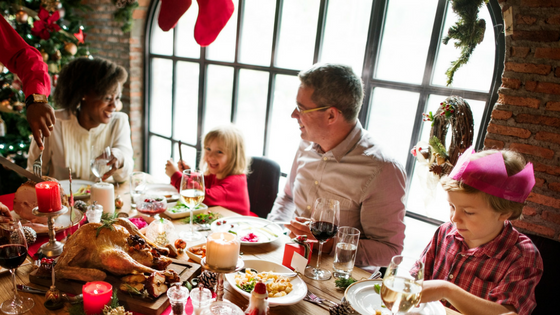 However, we would be wrong to say spreading the Christmas joy is that simple – this idyllic scenario can seem too good to be true when the reality means battling the crowds for Christmas shopping, preparing the home for visits from far flung relatives and, in many cases, caring for neighbours, relatives and friends.
There are many ways you can enjoy this festive season with loved ones living with dementia. We've compiled 6 tips to help you, your friends and your family to enjoy Christmas together:
Use Christmas as a conversation starter
Christmas and its many traditions can be used as an 'Invitation To Respond' – a non-pressurised communication method that encourages the use of open statements rather than direct questions to prompt conversation with loved ones living with dementia.
Examples of these open statements include:
"I love Christmas food- I could eat mince pies all day long!"
"The fairy on top of the tree has always been my favourite Christmas decoration."
Why not give it a go?
Get musical
As we find in our 'Empowered Conversations- The Sequel' workshops, music can be a powerful tool to connect with loved ones living with dementia. Playing all-time favourites or starting a sing song can help to share the festive spirit.
If you feel inspired, get in touch to find out about upcoming free music and communication workshops: hello@empowered-conversations.co.uk
Have a quiet room
Christmas can be overwhelming for everyone.
Recognising when someone could do with a break – perhaps where there are multiple conversations and sounds in one room-  and having a quiet room available can help relax and reassure loved ones living with dementia.
Get loved ones involved
Perhaps your relative is known as the Christmas cake baker in your family, or perhaps they always decorated the tree – it may take longer and a little patience, but getting loved ones involved in the tasks and traditions associated with Christmas can help you share the festive spirit – and prompt conversation, too.
Maintain a routine
For many people living with dementia, routine is important: it helps them navigate the day. Visiting relatives, changes in TV programming and annual leave can make maintaining a routine difficult. Try to keep mealtimes regular – or, if keeping up the routine is difficult, remember that this may be the cause of any anxiety your loved one may be showing.
Deal with difficult conversations
Christmas is a reminder for many of loved ones who sadly no longer share the festivities with us. This can be particularly distressing for loved ones with dementia – and difficult to deal with if they ask to see a loved one who has passed away. It is important to acknowledge the emotions underlying the conversation, rather than correct them- read our blog on dealing with distressing conversation.
Know where to find support
Dementia can be difficult to live with – and difficult for neighbours, family and friends to witness. Make sure you access appropriate support and information such as the free National Dementia Helpline.