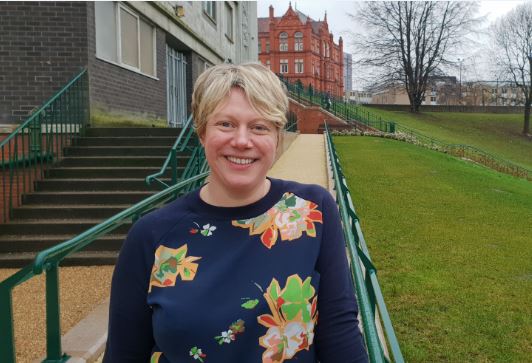 We're delighted to welcome Rachel Yates Hoyles as the leader of our new project for 2019 – Empowered Carers. The project will complement our existing Empowered Conversations dementia communications workshops by offering one-to-one support to carers and giving them an opportunity to access tips on ways to cope and a chance to connect with other carers through the delivery of six online sessions.
Rachel, who has more than 15 years' experience working with carers and people living with dementia, has fit right into the team – read on to find out more about our newest recruit!
How did you start you career in the field of dementia?
I started my career in social care by working as a care assistant in a care home during my college years nearly 30 years ago. After a break, I came back into health and social care and set up a dementia café 10 years ago. Seeing the need for support for people living with dementia and their carers lead me to sign up to the Open University to gain more knowledge on dementia. I graduated in 2016 and have since caught the learning bug and continued with my studies so I can learn more about dementia and support those who care for them.
What most excites you about this new project?
This project provides support to carers of people living with dementia that they haven't been able to access in Salford in the past. This has meant I am getting lots of opportunities to meet new people and build up trusted relationships that supports people to be the best they can.
By doing something that hasn't bene done before, I'm enjoying being creative by exploring new and innovative ways of working that can improve lives for the better.
How have you found the Empowered Conversations team so far?
One word…AMAZING! I have felt so warmly welcomed from the my very first day. I cannot thank everyone enough for showing their kindness and including me as part of the Six Degrees family.
 Has anything surprised you about the role or the team?
What's brilliant, is how supportive the team is here at Six Degrees – the team morale is fantastic, and it starts with staff and people who use the services wellbeing being at the heart of our work. Not that I thought it wouldn't be, though I have been touched by people's kindness and genuine passion to support others. It seems a great place to work and grow!
What do you hope to achieve with the "Empowered Carers" project?
There are a number of outcomes I hope to see come out of this project:
To reduce carers burden by providing professional advice to carers and families.
Encouraging carers to seek support from other professionals and people in the same situation as themselves.
To encourage time for themselves to step back and think about their caring role: the challenges, the emotions, their actions and responses. To feel `it's okay not to be okay, you are doing a good job and that there are people around who can and want to help'.
Reconnect families and friends through coming together as one to support one another.
For more details on the project, contact Rachel on 07775 030300 or r.yateshoyles@nhs.net . To find out more about the Third Sector Fund, visit: https://www.salfordcvs.co.uk/live-grants