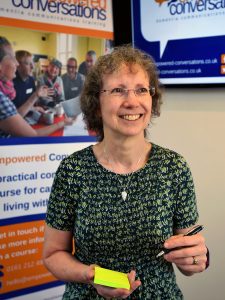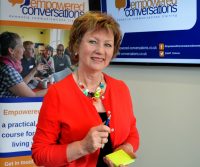 Our free dementia communications course for carers is coming
to Sale in November.
The Empowered Conversations course, takes a different approach to communication in dementia care that is designed to help people living with dementia and their carers to find ways to stay connected, handle emotional stress and navigate the day together.
The full course is four sessions that will be held between 10am-12.30pm from Thursday, November 8, 15, 29 and December 6 at blueSCI, Coppice Library & Wellbeing Centre, Coppice Avenue, Sale, Trafford, M33 4ND.
Empowered Conversations trainer Margaret –  who will be running the course – said: "If you're a friend, relative or carer of a person living with dementia,  this free dementia communications training gives you time to pause, reflect and find new ways to reconnect with loved ones with dementia.  "We would love to be able to support more people in Sale and we have a few places left – so please get in touch."
To register for free or for further information call Helen Macklin on 0161 358 1771 or email recoveryacademy@gmmh.nhs.uk