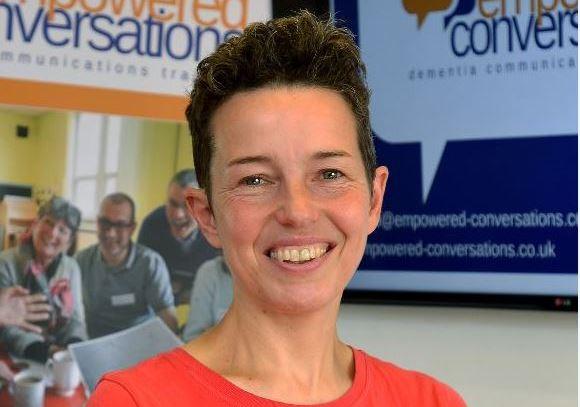 Physiotherapist Clare Tallis has worked alongside people living with dementia in a professional setting on the stroke ward at Wythenshawe Hospital – but it was not until she became a carer for her mum that she realised there was a lot more to learn about communication with a person with dementia – and how to share the caring responsibilities from a distance with her three siblings – Nicola, John and Simon.
 Clare's mum Chris, aged 74, was diagnosed three and a half years ago with vascular dementia. Her main carer is – Al – her partner of 15 years – and the four siblings care from a distance – sharing visiting times at a weekend when they are not working and communicating daily with each other through a What's App group called "Mum".
Clare said: "Our lives have meant that we are spread across the country, none of us stayed in our home town, and live between two and four hours away from mum. So, we have had to come up with a good plan to be able to give mum the best care and support Al in his main caring role.
"It was difficult when mum first got her diagnosis as she was not accepting of it, she was angry, and said that she did not want to hear the word dementia again. This stems from the old perceptions of dementia and the stigma that still surrounds it today.
"We all agreed that we would not talk about it, at the time I thought that was OK if that was what mum wanted, but now I am frustrated about not being able to talk to her about her dementia.
"We have never really been that family that shares and talks about feelings – so knowing how to deal with mum's diagnosis and each other's feelings was not easy at first.
"Seeing the progressions of mum's dementia was really hard for us when we went for a visit and Al – who is a lovely, caring man, did not share with us what had been happening – to protect us mainly.
"But the What's App group between us siblings helped us co-ordinate a rota for contact with mum and Al each day on the phone and feedback to each other on the group, and once every four weeks, at the weekend, we share visiting mum and Al gets a chance for some respite.
"Our caring responsibilities are on a level playing field because of the distances that we live away from mum – and we all want to do what we can to help – and have very much been learning along the way."
Clare went on the Empowered Conversations course in 2017 to help improve communications with her mum and help give her and her siblings tools to do this better.
She said: "We all have different things that we would talk about with mum when we visited, and with our chats on the phone, but we do all now try to use Invitations to Respond – saying things like – the weather is lovely today – rather than bombarding her with questions.
"The learnings that I have taken from Empowered Conversations, I share with my siblings and they very much take it on board. Mum's dementia has made us open up more with each other and it has brought us closer together. It has definitely empowered us as carers, and we are all on the same page. I would love to see the course expand outside of Greater Manchester – so they could go on it – and also to help other families that are in our position."
Clare was so inspired by the Empowered Conversations course that she wanted to become a trainer and now runs her own sessions to other family carers and professionals, while still working three days in the hospital.
Clare said: "From a professional point of view, I see the ways people talk or act around a person with dementia, and it makes me think, if only little, simple changes were made, communication could be so much better for everyone involved, which is why I am passionate about running the Empowered Conversations courses. I want to help make change – so families can have better relationships with their loved ones and professionals can improve their communications to improve care. I am very grateful for the knowledge that I now have for me, my mum, my family and in my profession."
If you want to find out more about the Empowered Conversations go to www.empowered-conversations.co.uk