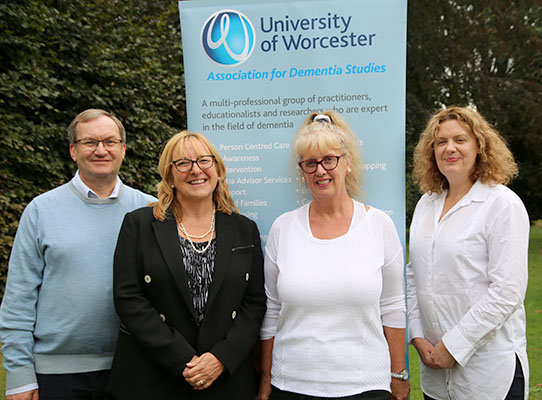 The University of Worcester has been awarded a major grant from the National Lottery to support people and families living with dementia across the UK.
The University's Association for Dementia Studies has been awarded a £587,000 grant from the Big Lottery Fund, to develop its Meeting Centres Support Programme. Originating in the Netherlands, the 'Meeting Centres' operate out of ordinary community buildings, offering warm and friendly expert support to people living at home with dementia. At the heart of the Meeting Centre is a social club where people can meet to have fun, talk to others, and get great help that focusses on what they need.
Over the next three years, the funding will support communities across the UK to establish Meeting Centres for people and families affected by dementia.
The grant will help to establish a National Reference Group which will have the voice of people affected by dementia at its heart. This will be linked closely to a new Community of Learning and Practice, comprising representatives from the existing sites and other interested parties.
Professor Dawn Brooker, Director of the Association for Dementia Studies at the University of Worcester who is leading the project, said:
"This National Lottery funding will have a significant impact on many people's lives. The numbers of people affected by dementia continues to rise with little hope of an early cure. The aim is to help communities across the UK to establish Meeting Centres by providing people with a ready means of learning about the model, getting practical advice on how to establish a Meeting Centre, training staff and supporters, finding funding and sustaining help and support for the longer term."
For more information on Meeting Centres, visit: https://www.worcester.ac.uk/discover/34388.html